Braids are a classic hairstyle that never seem to go out of style. Whether you're in the office, going for a run, or just lounging around the house with your kids – there is always an occasion where braids work. Braided styles can be created from all sorts of hair textures and lengths. In this article, we'll show you some sporty styles that are perfect for your active lifestyle. What's more, these braids will keep your hair tied back and out of the way while still looking stylish.
Sports braids are a really hot style right now, and it's not hard to see why. They're as easy as regular braid styles and can be done with any hair texture or length. So, no matter what your preference is, we've got the perfect sporty braided hairstyle for you.
Sporty gym braided hairstyle ideas
Braid your hair, and you're ready to go. Braids work for both formal and casual occasions, so this hairstyle is perfect for the busy woman on the go. Check out these sporty braided hairstyles that will help you look amazing no matter where life takes you!
The French braid: This style is versatile and can be worn in various ways, such as with a ponytail or bun. You can also add extensions to make it longer or use colorful hair accessories to jazz it up. No worries if you don't know how to French braid because we'll show you step-by-step instructions below!
Dutch plait: This simple yet elegant style looks good pulled back.
Braided hairstyles are in style for many reasons. Braids create a unique look, they are professional in appearance, and they can be done quickly to give you an impressive look without much effort. If you have long or thick hair, braiding your hair is not very difficult, so it's easy to achieve the latest styles with little time investment. Many women want their hair styled but don't have hours to spend on styling products or tools that might damage their locks over time. Of course, there are some tricks of the trade when it comes to getting braids right.
Braids for every sporty girl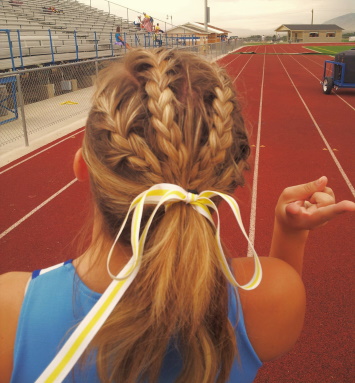 Hair braids are a popular hairstyle among women of all ages. They're perfect for work, school, or play and can be done in many different styles. We will show you how to do various sporty hairstyles that are perfect for athletes. The first style is the double french braid. To achieve this look, take two sections of hair near your forehead and cross them over each other until they meet at the back of your head. Then braid like normal. Next up is the French rope twist ponytail with braided pigtails on either side (see pictures). If you have long enough hair, this style may not need extensions, but it's best to add a few inches if you don't.
A new hairstyle may be the answer to your hair woes. Braids are a great way to spice up an old look or create something completely new. There are many braided hairstyles, some more popular than others, but all of them can work with any hair type and length. Here are sporty braided styles that you might want to try on for size.